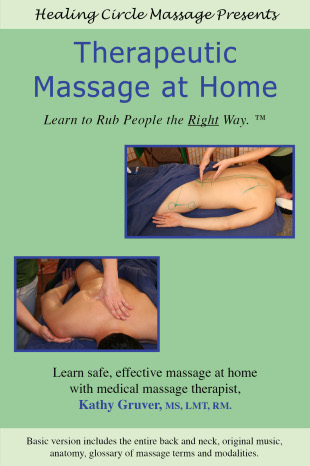 DVD Contents:
Anatomy
Areas to Avoid
Hand Positions
Tools
Back with Audio Cues
Back with Visual Cues
Neck
Special Features:
Massage Terminology
Massage Modalities
Using a Bed or the Floor
A Quiz to Test Your Knowledge
Made for the beginner, this DVD teaches safe and effective massage for home health. Follow along with Kathy Gruver, a Certified Medical Massage Therapist, to learn a comprehensive back and neck massage in the comfort of your own home.
Already massage your loved ones? Hone your technique and protect your hands.
Always wanted to learn massage?
Either way, this DVD is for you!
19.95 + Shipping, CA Tax
To order by phone, please call (805) 680-1984.
Credit cards accepted over the phone.
Continue your education by adding one of Kathy's great books, Body-Mind Therapies for the Bodyworker and other health practitioners or The Alternative Medicine Cabinet
What people are saying about Therapeutic Massage at Home:
The instruction was easy to understand and detailed without being monotonous; diction was clear, distinct and expressive; music was original and soothing; and the organization was good, I particularly liked the 'with' and 'without' instruction sections. I can't wait to get home and try it.

~ Steven B, ND

I LOVE this DVD!

~ Marla, Life Coach